Are you familiar with the risks associated with runoff? No? You're not alone – we didn't know much about them either, until we set up this multi-channel awareness campaign for ECAP, the Cantonal Insurance and Prevention Establishment of the canton of Neuchâtel. Now, we've become specialists!
A large-scale campaign
Wishing to inform home-owners in Neuchâtel about the dangers associated with runoff, ECAP hired us to promote a unique endeavour aimed at raising awareness and providing financial support for the implementation of preventative protective measures.
To us, it quickly became obvious that the best way to ensure the visibility of this initiative was to implement a multi-channel campaign in both the upper and the lower parts of the canton.
General mobilisation
The substantial and ambitious list of services that we provided included visuals for the press and for public display, content writing, video, digital campaigns and a dedicated website. To meet all ECAP's requirements and in order to create a campaign which would present runoff in a light-hearted way, all our agency's creative resources were put to good use, along with those of the communication agency, Costaud.
Following our preliminary research, we retained two main ideas that we proposed to ECAP: one was based on humour, the other on a more formal vision, emphasizing key aspects of the problem. Following our presentation, the humorous approach was unanimously chosen. The "Off with runoff" ("Pas dans ma maison") campaign was launched!
Variations, you said?
In order to promote ECAP's approach and encourage home-owners to register for the free information sessions which were organised by ECAP's prevention team, we rolled out a communication campaign both on traditional and on digital media.
We created dedicated social network accounts, and posted regularly (including sponsored posts) to announce the dates of the information sessions. Some 18 000 home-owners throughout the canton also received a personalized letter, including a "runoff risk map" indicating their buildings.
In addition to this online presence, triptychs of posters, and inserts in local newspapers ensured a physical presence throughout the canton. In the end, to ensure the campaign's success, we created more than 60 variations.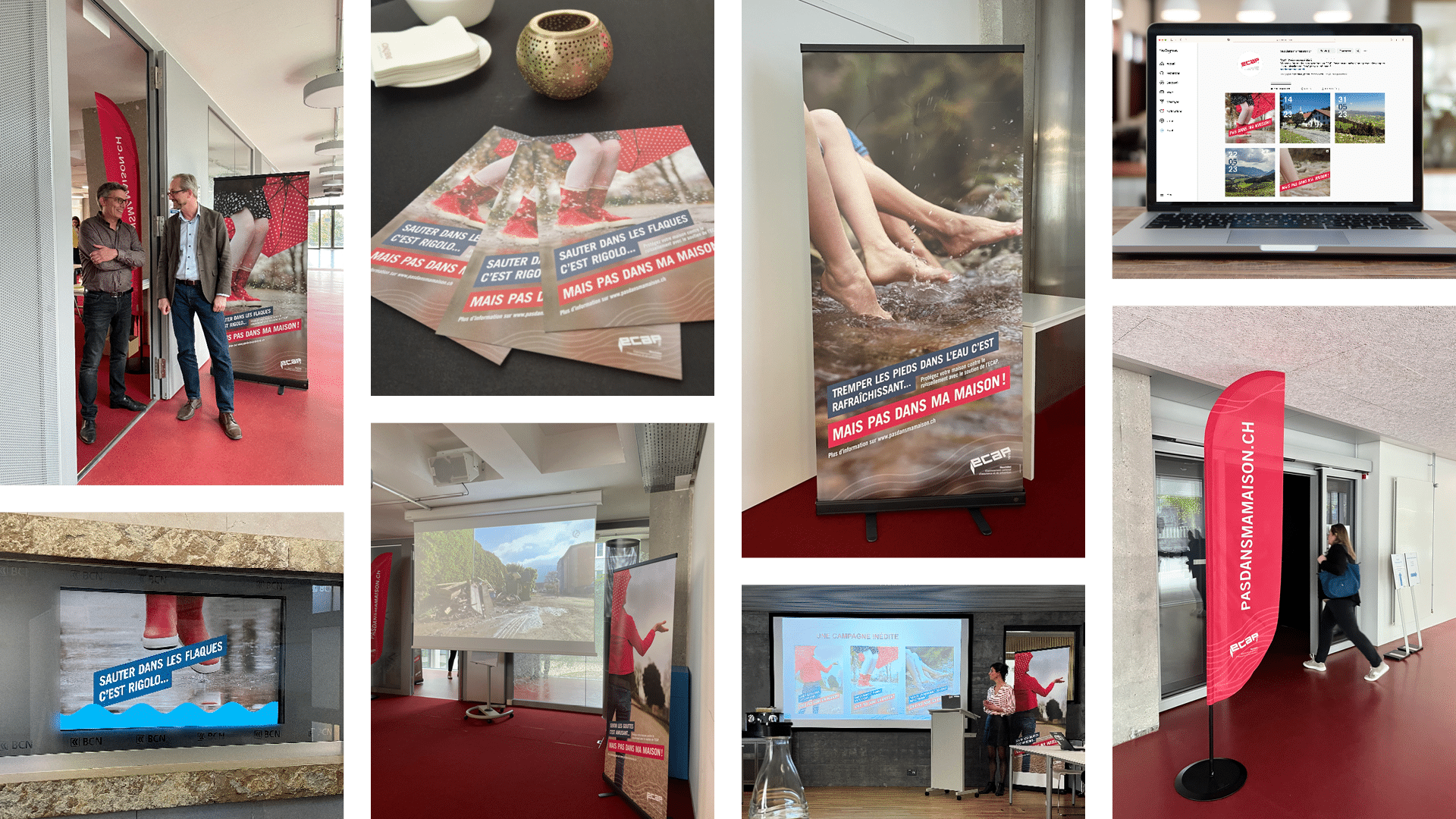 A promising start
The campaign was a success from the start, and places at the information sessions ran out after a mere month and a half. Considering the objective was to make the information on the prevention of runoff damage accessible to as many people as possible, we suggested that we add the recording of one of the meetings to the website.
If, like us, you thing that "Jumping in puddles is fun, but not in my house!", head to the campaign's website to find all ECAP's valuable advice.